Statement Condemning Anti-Trans Bills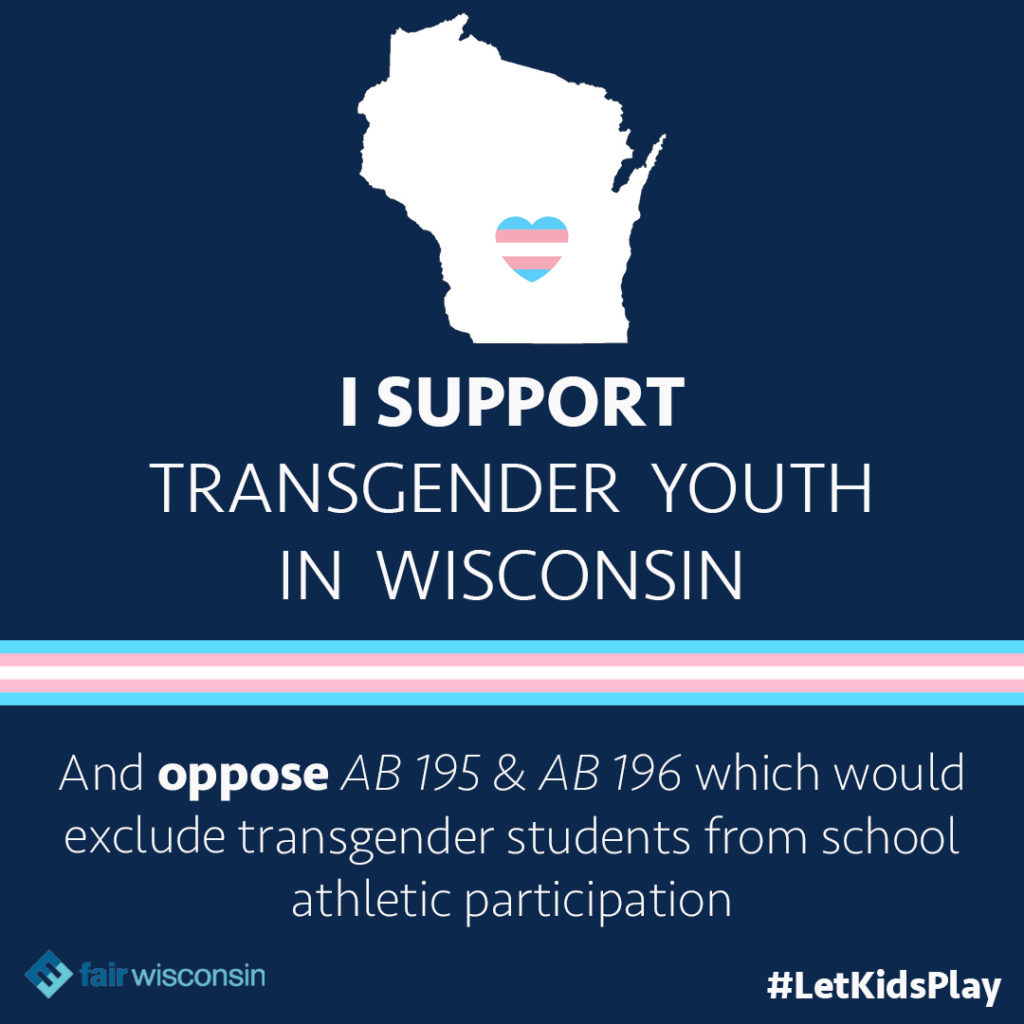 FOR IMMEDIATE RELEASE: MAY 23, 2021
Contact:
Megin McDonnell, FAIR Wisconsin
Kathy Flores, Diverse and Resilient
Brian Juchems, GSAFE
Helen Boyd, author/educator
Amira Pierotti
Coalition of Groups Release Statement Condemning Anti Trans Bills
MADISON, WI: A coalition of thirty-one groups have issued a statement condemning AB 195, AB 196 and SB 322 and SB 323, bills intended to prevent trans youth and young adults from participating in sports in a team based on their gender identity. The groups range from National (ACLU, HRC, etc.) to statewide (FAIR Wisconsin) to local organizations and include, as well, teachers' unions and professional groups and several key individuals.
The statement was issued in response to the committee hearings scheduled for May 26th in Madison.
The statement underlines the importance of sports to trans and non trans students as well as the vital role that inclusion plays in the well being of trans youth. It also clarifies that this legislation is creating a so called solution where there is no problem to be found: most athletics organizations, such as the NCAA, the International Olympic Committee, and USA Gymnastics have all successfully and without incident included trans athletes.
Despite the fact that 252 of these bills are being introduced in states across the country, legislators have failed to provide examples of issues in their states, which underlines that these bills are based on discrimination and not on facts.
More than 80 major U.S. corporations have stood up and spoke out to oppose anti-transgender legislation including Facebook, Pfizer, Peloton, Dell, Amazon, Apple, AT&T, Google, Hilton, IBM, IKEA, Microsoft, Nike, ETC.
The nation's leading child health and welfare groups representing more than 7 million youth-service professionals and 1000 child welfare organization released an open letter calling for lawmakers to oppose these and other similar bills.
The NCAA Board of Governors released an open letter condemning bills of this kind.
A PBS/NPR/Marist poll indicates that 67% of Americans, including 66% of Republicans, oppose these bans.
A small group of individuals and groups organized to create this coalition, collect signatures and written and spoken testimony, and to educate and inform Wisconsin residents about the harm these bills would cause.
###